In March when the Corona Pandemic provoked a lockdown in Germany, so-called "risk groups" in particular were faced with an uncertain future. The fact that the infamous "Ultras" suddenly found themselves as "shopping helpers" providing Corona risk groups with essentials as part of a social initiative led by 1. FCN, attracted attention throughout Germany. In August "der Club" started another project – FCN baby rompers for all Nuremberg newborns. Now the association is taking it up a few notches with the debut of "Unser Club" (www.unserclub.de). Unser Club is a Corporate Social Responsibility (CSR) platform, where fans can collect points and exchange them for exclusive rewards – all with the help and active digital support from some club fans in Regensburg.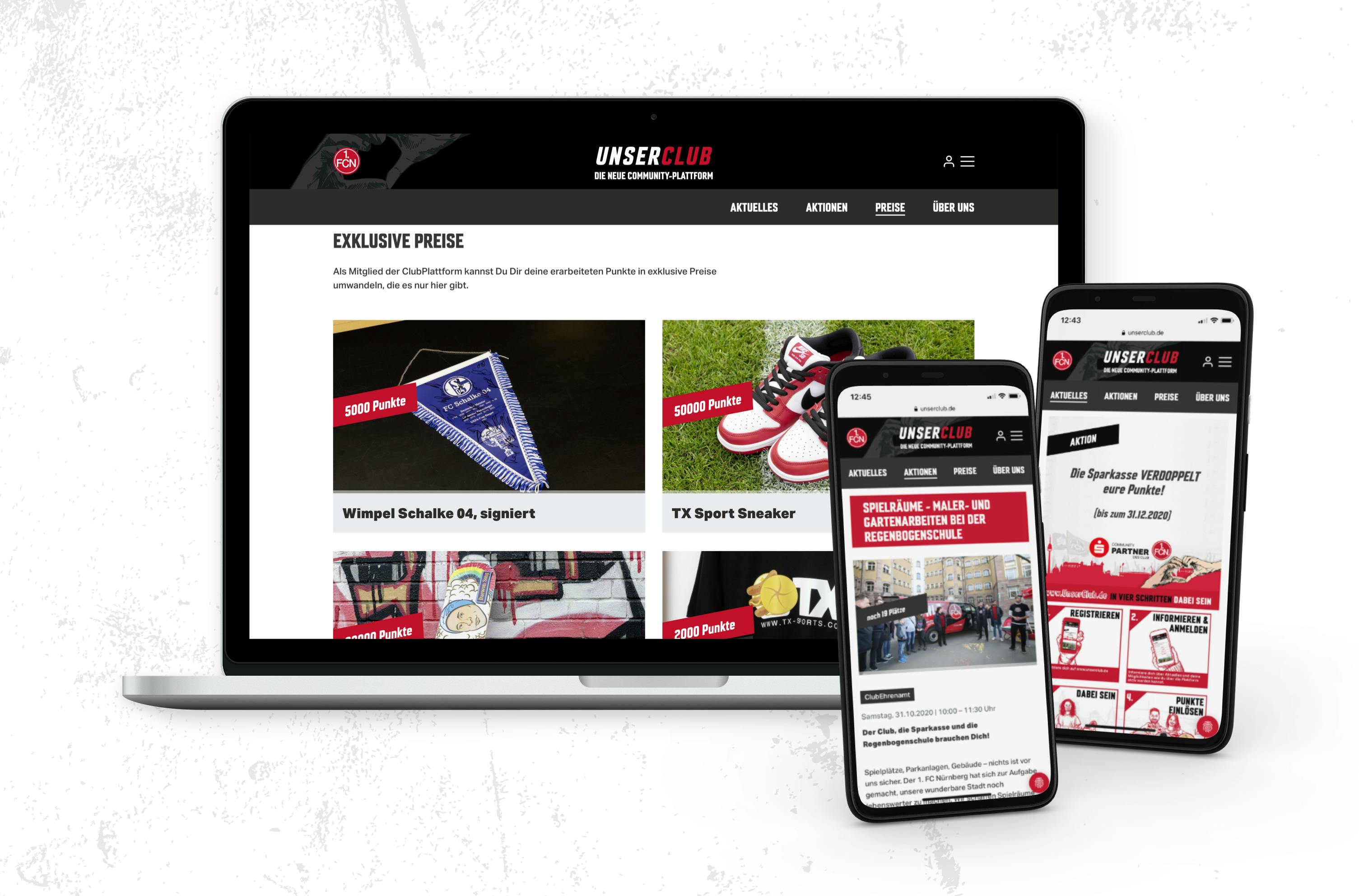 Worldwide unique CSR platform brings fans and commitment together 
On the Nuremberg side, Niels Rossow, Commercial Director, and former Olympian Katharina Fritsch, Head of Corporate Social Responsibility, lead the social initiatives and projects of the soccer club. Both know about the growing importance of social commitment and commissioned the experts from Tickaroo to implement a CSR platform that is unique in the soccer world. Rossow recalls his time in the USA: "The New York Yankees helped out in soup kitchens years ago, the Afropunk Festival has been established for 15 years, and in Germany, too, the issues of inclusion, diversity and social cohesion are becoming increasingly more important. This movement is not a trend, they are important pillars of an international value culture. We are very pleased to take this step and, as CSR pioneers in soccer, to be able to contribute to social commitment and provide a sustainable platform – for fans and society". With "Our Club", the FCN wants to mobilise even more fans and friends, while supporting charitable purposes. From legendary club trainer Hans Meyer's bicycle up to exclusive merchandise articles, from now on the faithful companions for additionally rewards their social initiative. 
Our Club' is the digital impulse 
"Unser Club" is one of the first new projects of the recently launched brand "made.by Tickaroo", under which the Regensburg-based company had previously provided its digital media services for Red Bull and kicker, among others. For Tickaroo CEO and passionate "clubberer" Matthew Ulbrich, this is a very special project, which will be followed by many others: "Professional soccer enjoys enormous relevance for large sections of society and therefore has a great responsibility – especially these days. It makes us all the more proud that the FCN has placed its trust in our team for this extensive and pioneering project. We are able to give the distinctive value culture an intuitive platform that focuses on usability and user experience. We always aim to keep the hurdles for fans and friends as low as possible in order to support social activities and initiatives together in the long term. 'Our Club' is the digital impulse for more social commitment via the sport." 
Congratulations to the Regensburg-based company, which has been developing the kicker App, are also added by Werner Wittmann, Head of Digital Media at kicker: "This is a great first big project under the new brand 'made.by Tickaroo' especially one this likeable. We wish you good luck and hope that this digital advance will only help to strengthen fan-commitment for social purposes."